If you wish to access Kheloo's online services in India, we have prepared a simple guide to help with every step of the process and help to set up your own Kheloo account. We'll also show you how to log in to your account and complete the verification process, which is important for using Kheloo.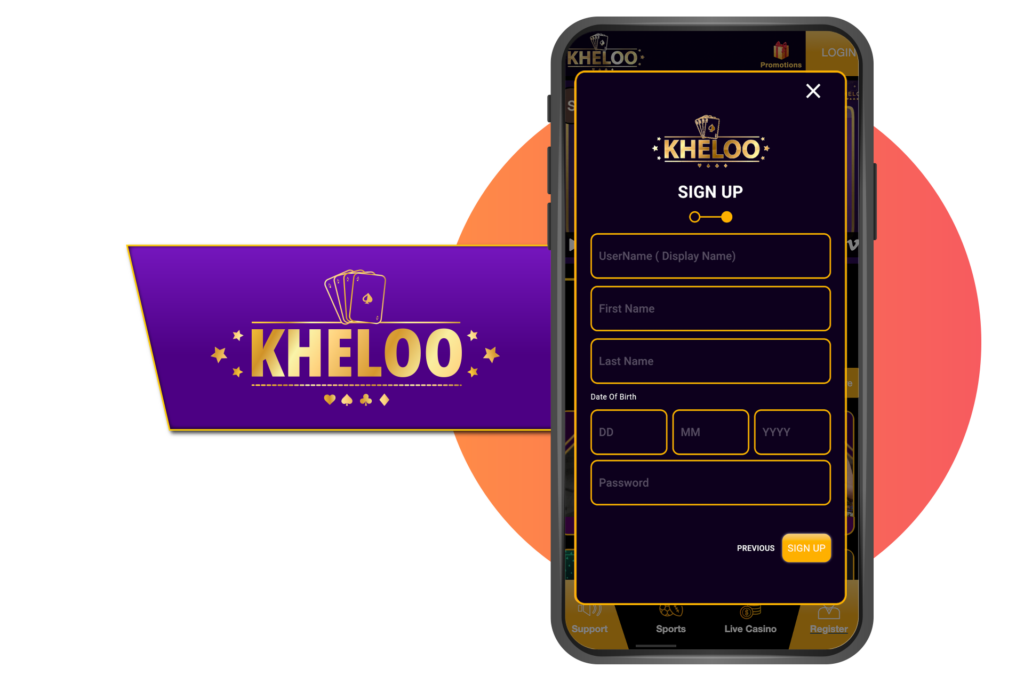 Registering an Account at Kheloo: Step-By-Step Instructions
To get started with Kheloo's betting and gaming services in India, you'll first need to create an account on their official website. Follow these easy steps, and the whole process should take no more than 3 minutes.
Go to the Kheloo Website Using any device, visit the official Kheloo website in India. You can do this by clicking on the provided link, which will take you to the Kheloo homepage.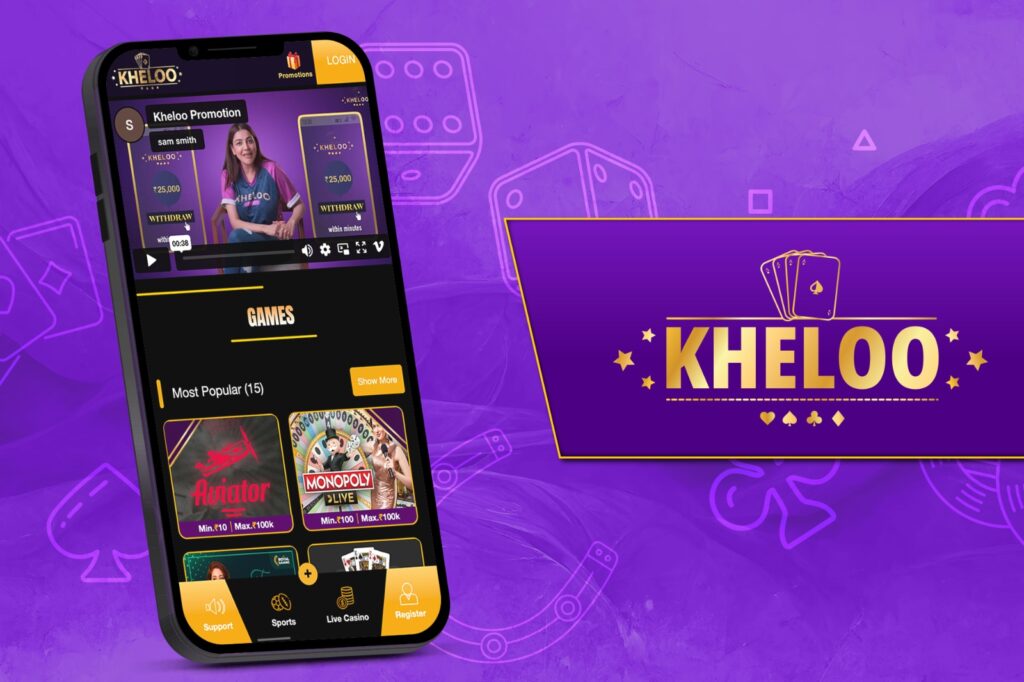 ---
Start the Registration Process Once you're on the Kheloo India website, locate the yellow "Join Now" button at the top of the page and click on it. This will open the registration panel, where you'll need to provide some information.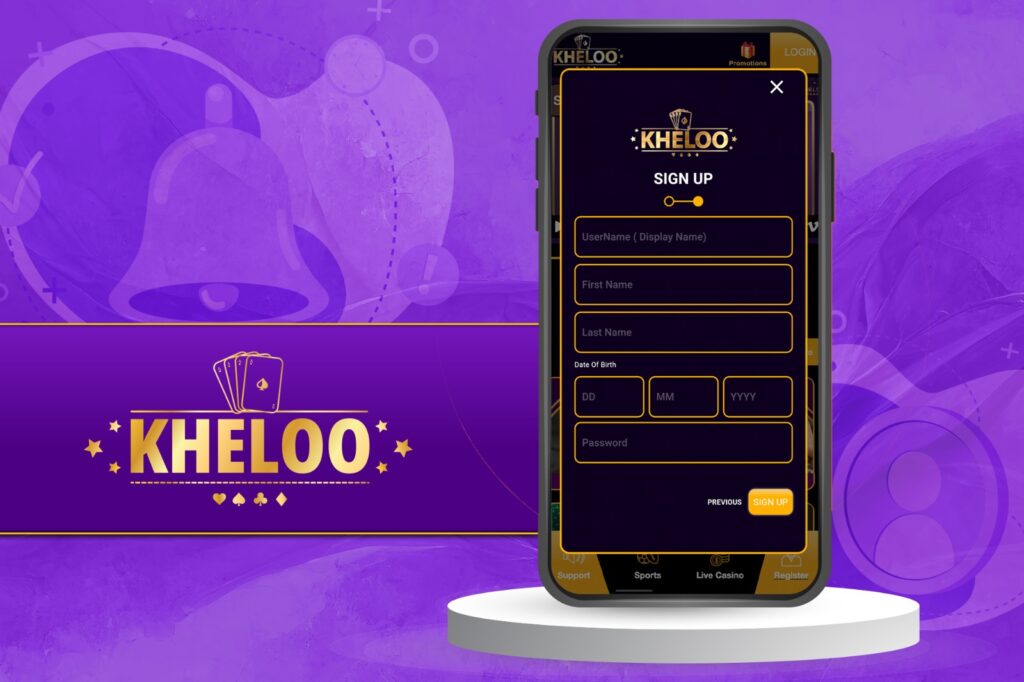 ---
Fill in the Sign Up Panel Enter the required data for Kheloo registration, including your desired username and password, email, phone number, basic information (name, surname, date of birth), preferred account currency, and country of residence.
---
Check the Terms and Conditions Double-check that all the details you entered are correct. Take some time to read and understand Kheloo's Terms and Conditions, as you'll need to accept them during the registration process.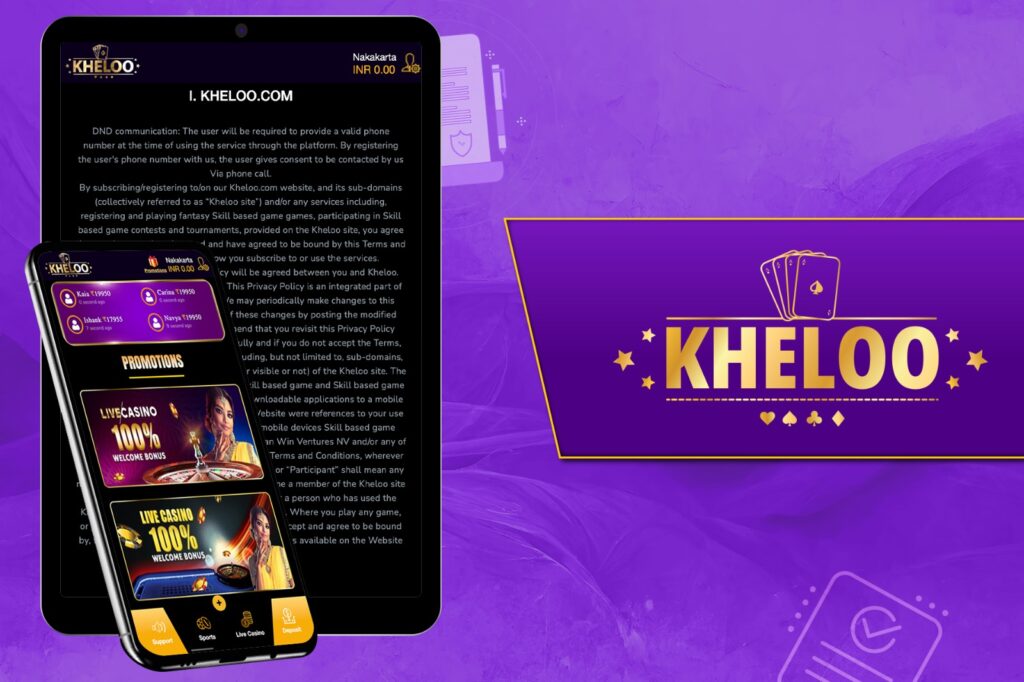 ---
Complete the Kheloo Registration With all the necessary details filled in, you can create your Kheloo India account. Click the button at the bottom of the registration form. After successfully creating your account, you'll be prompted to proceed to the online cashier to make a deposit.
Registration via Kheloo App
In addition to using the website, users in India also have access to the Kheloo mobile app for online gaming and betting. The app is available for both Android and iOS systems. Here's how you can access the Kheloo app using your mobile device:
Use your smartphone to follow the link provided to download the Kheloo mobile app.
Choose the app you want to download: "Kheloo Mobile App"
Start downloading the app's apk file to your device. The apk file is a compressed code for easier installation.
Go to your smartphone settings, visit the privacy or security section, and enable installation of apps from unknown sources.
Find the downloaded apk file and open it. You will be prompted to start installing the Kheloo app on your device. Agree to proceed with the installation.
Wait until the Kheloo app icon appears on your smartphone's home screen. You can now start with the registration process.
Open the installed Kheloo app and find the button at the top to create your account. Click on it.
Fill in all the necessary details in the registration form that appears. Ensure that the information you provide is accurate, as it may be crucial during the verification process.
Make sure to read and understand the Kheloo Terms and Conditions, as every new user must adhere to them.
Complete the account creation procedure by clicking on the button at the bottom of the registration form.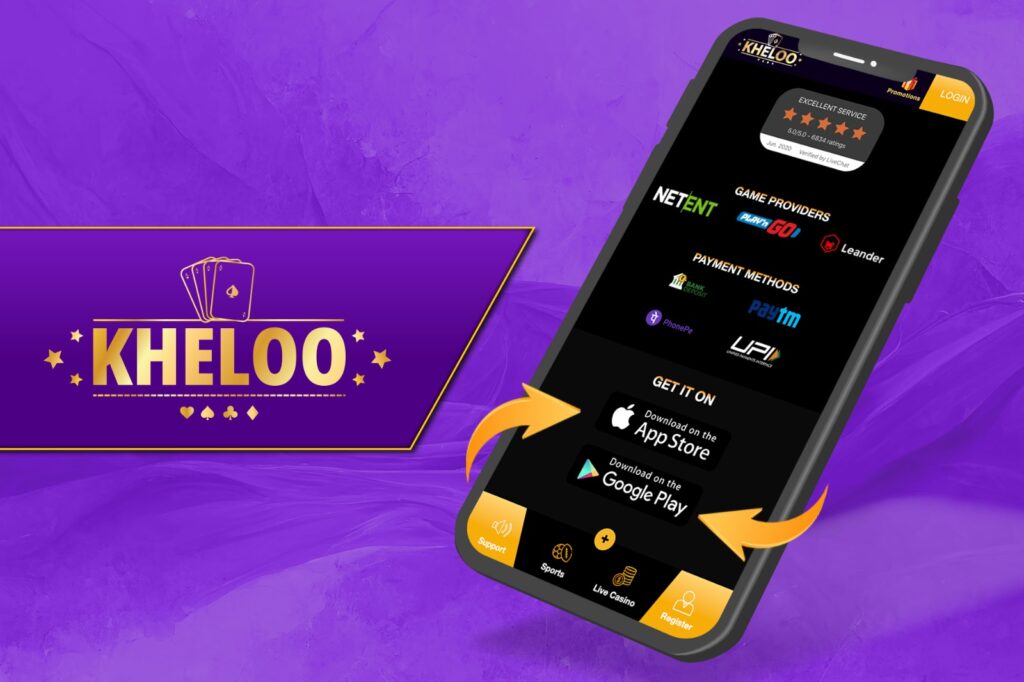 Kheloo Account Registration Requirements
To be eligible for using Kheloo's platform services in India, you must meet certain requirements stated in Kheloo's governing documents:
Age of Majority: You must be at least 18 years old to use Kheloo's services. If you are below this age, access to the Kheloo website is prohibited.
Responsible Use: Exercise caution to avoid financial losses and other issues while using Kheloo's services.
Provide Truthful Information: Enter accurate information during registration. You will need to go through a verification process later, which requires providing personal documents for verification.
One Account Per Person: Only one account is allowed per individual, family, address, phone number, email, and IP address. Violating this rule will result in blocked duplicate accounts.
It is important to keep your username and password confidential, and not share this information with anyone else. You are solely responsible for any activities and transactions carried out using your registered account.
Kheloo Account Verification Process
Kheloo requires a mandatory KYC (Know Your Customer) verification before allowing clients to withdraw funds. The verification process requires to follow three steps:
Phone Number Verification: Go to your profile and click "Verify" next to your phone number. You'll receive an SMS with a confirmation code, which you need to enter in the corresponding field.
Identity Verification: Provide a scan or photo of your personal identification document, such as a passport or driver's ID card.
Proof of Address Verification: Submit a scan or photo of a document verifying your residential address, such as a passport, bank statement, utility bill, or other acceptable documents.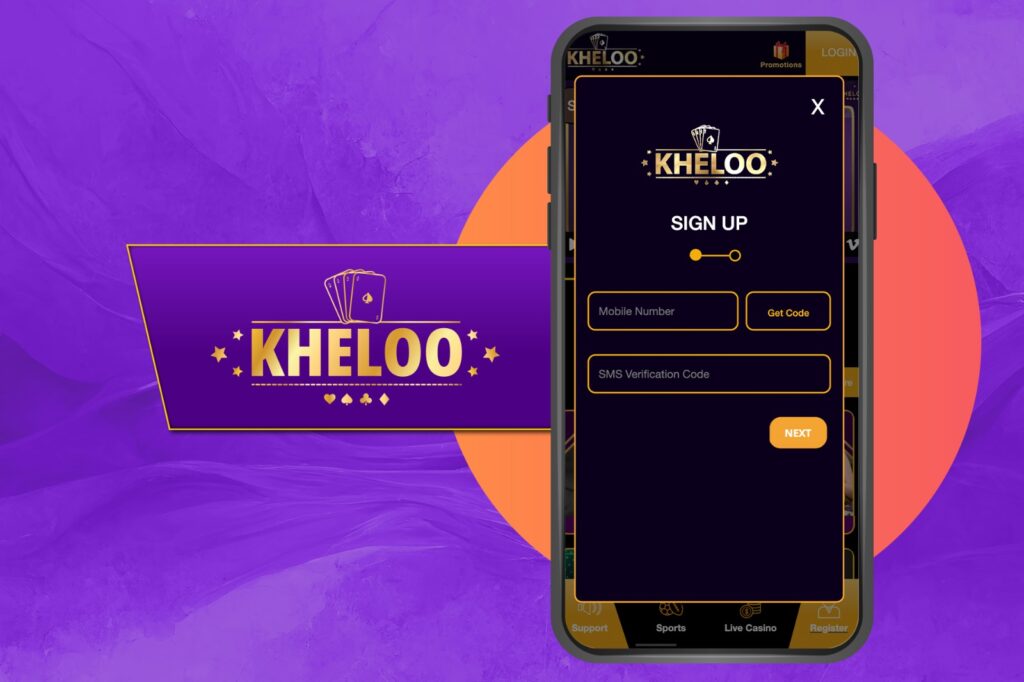 Kheloo Login in India
Logging into your account is a simple procedure required for every registered user. Follow these steps to log in to your Kheloo account:
Open the official Kheloo India website on any device.
Click the login button at the top of the screen.
Enter the username and password you created during the registration process.
Click on the account login button, and if done correctly, you'll gain access to your profile.
In case you can't log in (forgot your username or password), click on the "Can't login?" button to recover access via email.
Kheloo Welcome Bonus and Promotions after Registration
As a new Kheloo user, you have the opportunity to receive a welcome bonus for casino or sports betting on the website or app. The bonus comes in two forms: +100% up to INR 20,000 or +60% up to INR 60,000. Choose the one of the bonus.
To claim the Kheloo Bonus, make a deposit at the online cashier and use the provided bonus code. Your deposit funds will be credited to your account along with the bonus cash. Remember that the bonus can be withdrawn after meeting the wagering requirements.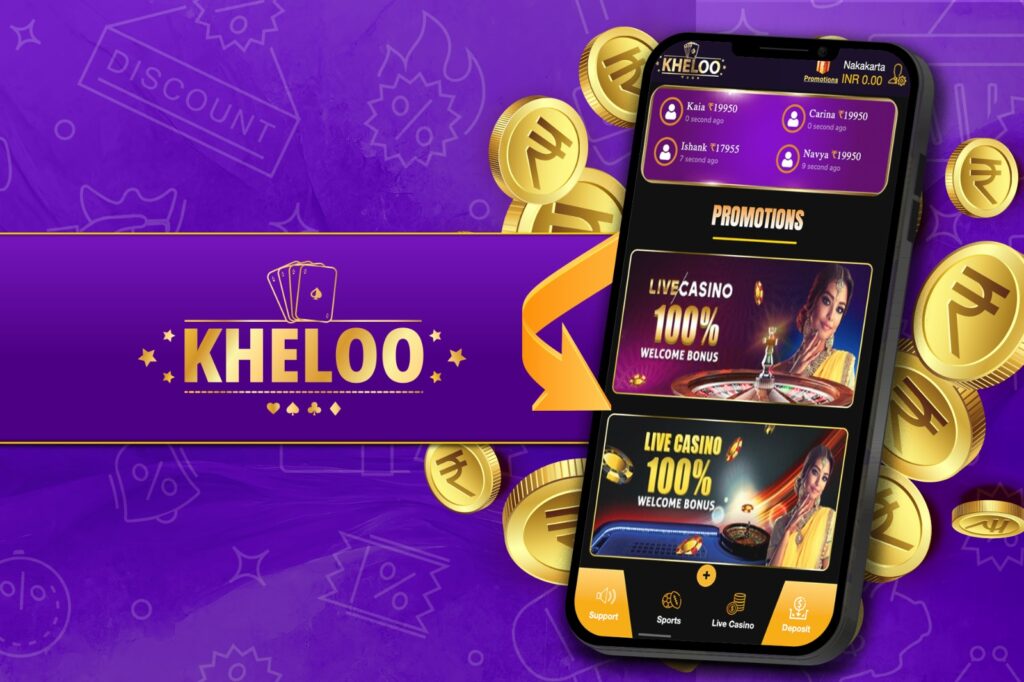 FAQ
Is it Legal to Register on Kheloo in India?
Yes, it is entirely legal as Kheloo holds its own Curacao license, has been operating since 2004, and adheres to AML (Anti-Money Laundering) and KYC (Know Your Customer) policies. Positive reviews about Kheloo can be found online.

Can I Delete My Kheloo Account?
Yes, it is possible to delete your Kheloo account. Contact the technical support team via Facebook, email, or live chat, and they will assist you with the process.

What Should I Do if I Need Help Registering My Kheloo Account?
This article provides answers to most registration-related questions. However, if you need further assistance or encounter any issues, you can contact Kheloo's technical support team.

Can I Have Multiple Accounts on Kheloo?
No, using multiple accounts for one person is forbidden. This violates fair play principles and may involve fraudulent schemes. Any violation of this rule will result in a permanent ban of all associated accounts without the possibility of refund.